Are the Rising Costs Affecting Events?
We always knew that 2022 was going to be an unsettled year for events; with postponed events crammed into a summer of activity and organisations finding a way to balance online with in-person.
But now with a winter of rising costs looming, the events climate is shifting once again and event organisers are asking important questions about the viability of events, both in-person and online, and what to expect in the months ahead.
Here we share what you need to know about events planning in winter 2022/23.
If you have any questions specific to your event or organisation, don't hesitate to contact us directly for a quick support call.
In-Person Events: Attendees
Many people are feeling the pinch with the rising cost of living and for many, attending an in-person event will be a luxury.
Even with free-to-attend events, your attendees need to travel, pay for parking, food, and possible accommodation – think about this carefully when planning in-person-only events.
Who are the demographic and how likely are external factors impacting their lives?
And when it comes to health, attendees are still being cautious about large gatherings.

In-Person Events: Organisers
Budgets for event organisers are likely to feel a squeeze with venue costs rising on average by 30% – costs which are then passed on to you.
A recent survey from the Night Time Industries Association has shown that 44.7% of venues are uncertain about their future. Payment terms are inflexible and there's an uncertainty of there being a place to host come event day.
When planning in-person events, think carefully about the venue. What size can they accommodate and how much of that do you want to fill
Check your contracts carefully and make sure you're protected against cancellations from the venue, and always get insurance.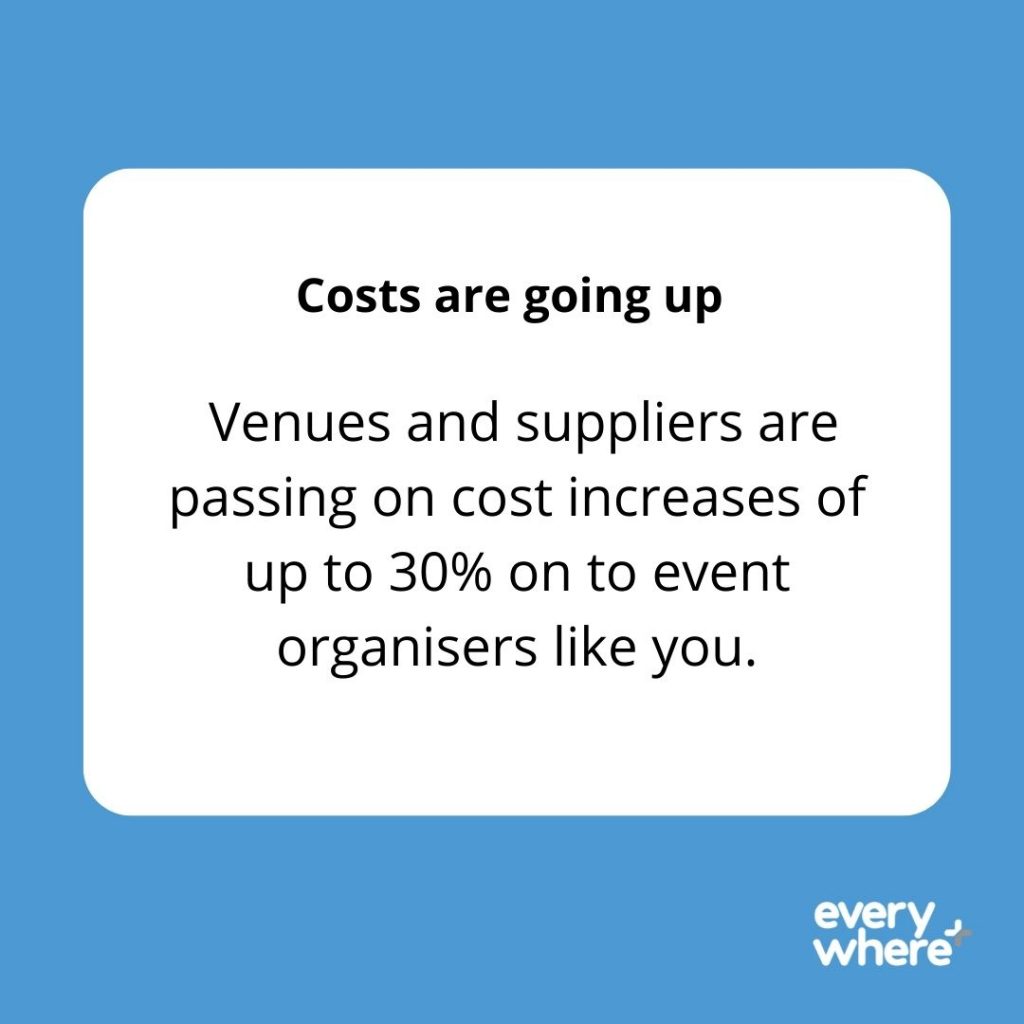 Many event organisers have continued with online events beyond lockdown and are levelling up their experience by hosting hybrid events, but even online events aren't without their challenges for organisers.
Whilst it's not certain, there are risks of rolling blackouts this winter which would make both in person and online a no-go come event day.
And of course, we need to be mindful that many are making the tough choice between heating their homes and eating; powering computers beyond 'required' use might not be possible for everyone.
Offer flexibility with online event attendance by making content available on-demand to watch at a later date, reduce event durations where possible, and plan event timings to avoid peak energy cost times whilst still being favourable to the demographic you want to attend.
Did you know? Everywhere+ has event engineers based around the world. We can avoid local issues to ensure your event always goes ahead.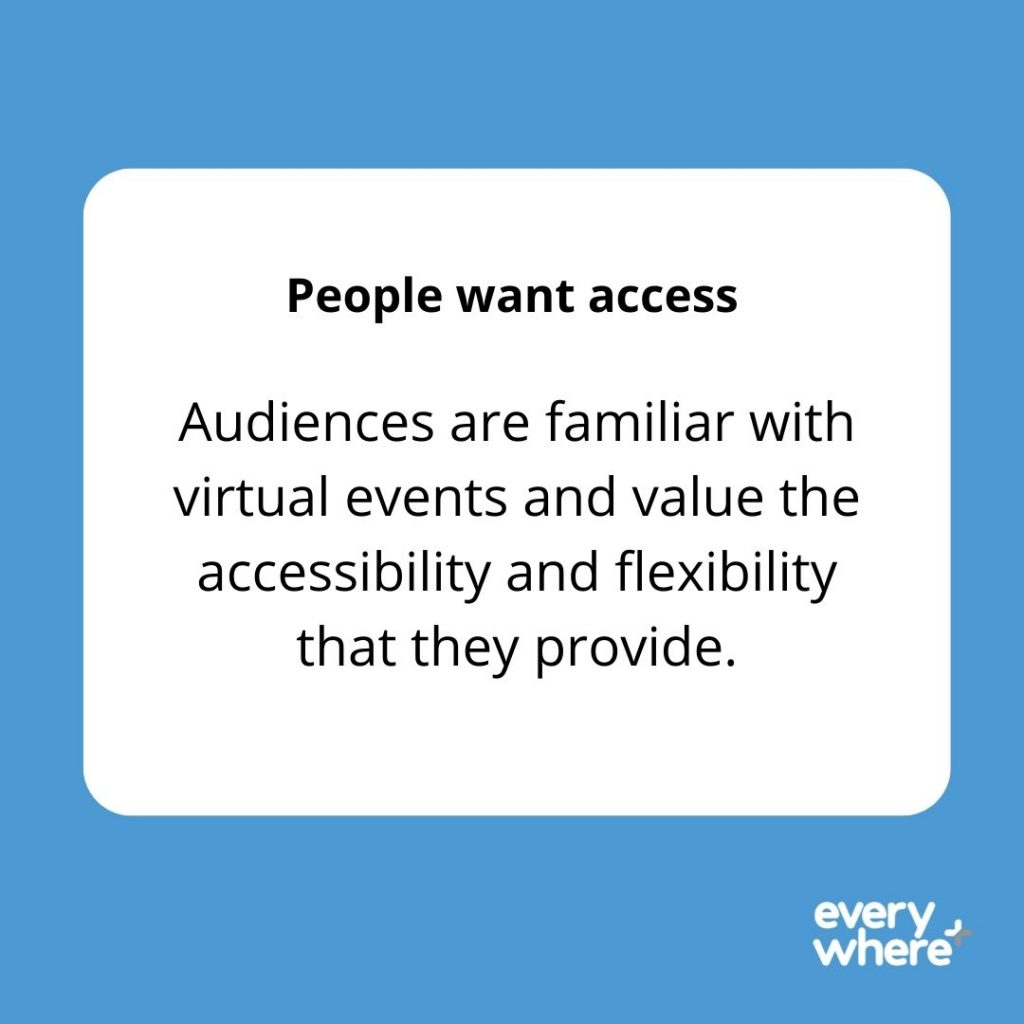 Your audience has always wanted choices, and increased online access during the pandemic has shown this was possible.
With the increase of online events there is more choice available, but that doesn't mean your audience are tired of the medium. It means it's time to put effort and care into planning; crafting content that inspires and virtual event experiences that delight.
Online events offer flexibility and guarantees that your event will go ahead no matter what happens this winter and with it comes the increased ROI, higher reach, and reduced carbon footprint.
But it's not to say in-person events are not possible.
Use them for your high-value, high-outcome activities, communicate well with attendees and be transparent about any event logistics or change of plans.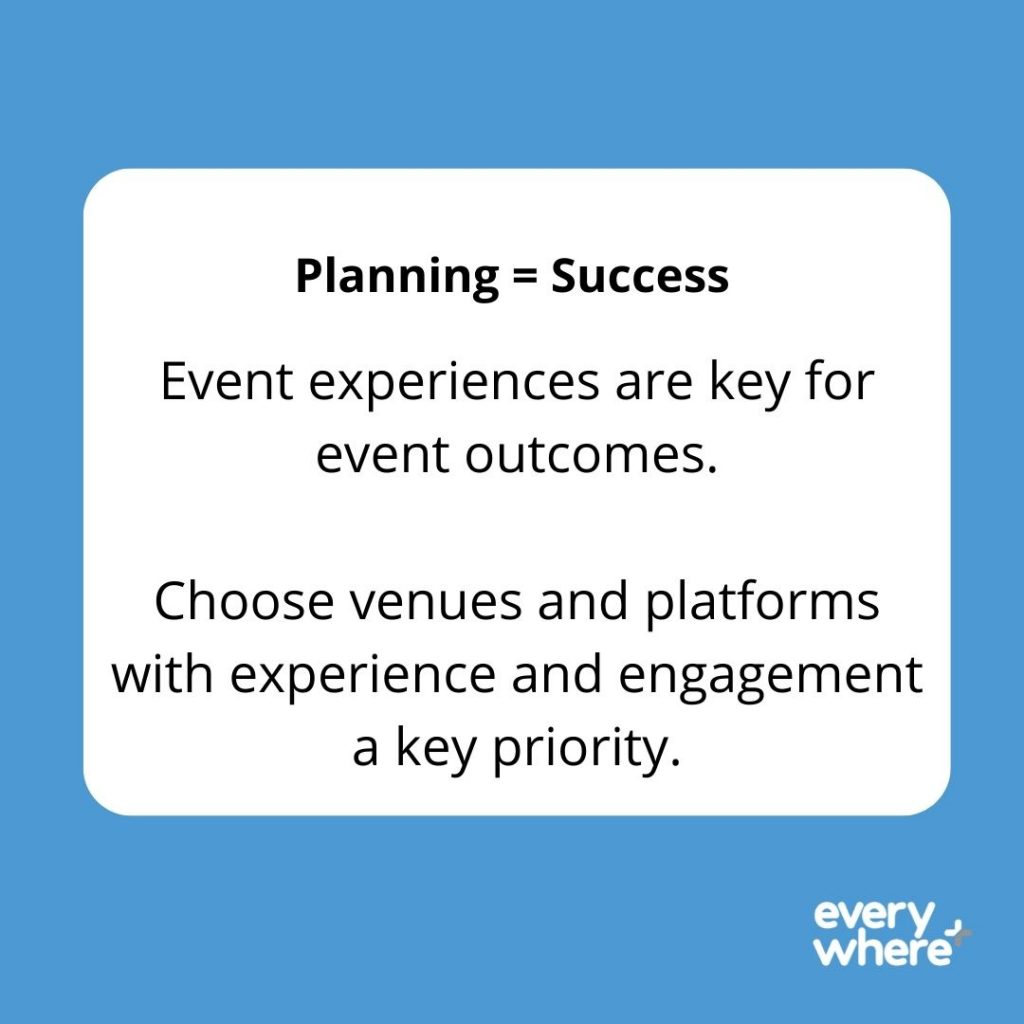 We help organisations like yours host virtual events hassle-free.
Would you like support hosting engaging and successful virtual events this winter?