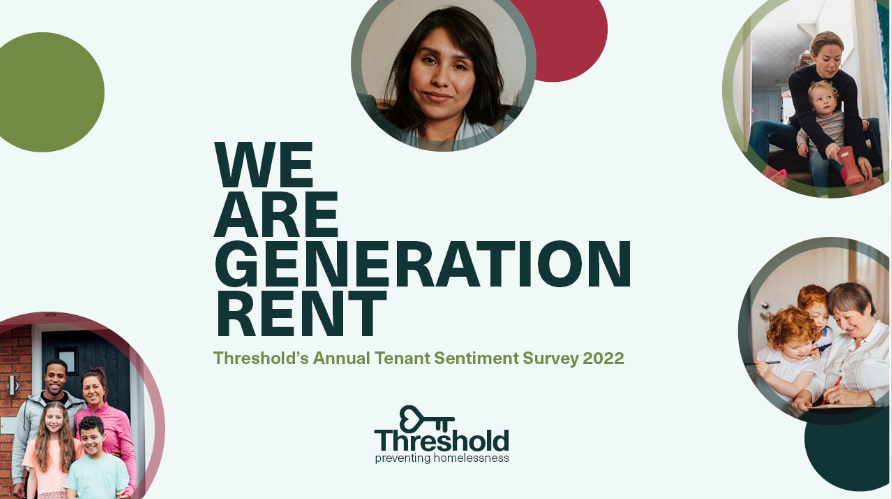 What was it about?
Threshold is a national housing charity, founded over 40 years ago and based in Ireland. They are the only charity in Ireland that robustly advocate for the prevention of homelessness. They are the only charity that represent private renters, by providing frontline and legal services while fighting for tenants' rights at government level.
Since January 2022, they have assisted 12,809 households. This includes 16,838 adults and 10,163 children.
Ireland is experiencing a disastrous housing crisis. 'We Are Generation Rent' is Threshold's fifth edition of Threshold's Annual Tenant Sentiment Survey, first conducted in 2018. Generation Rent is everyone in Ireland, all ages, and backgrounds, each affected by this deepening crisis. Their annual survey gives a voice to the experience of their clients, their aspirations, and frustrations. These voices inform Threshold's work, its policy proposals, and provides an insight into renting in Ireland today.
Minister for Housing, Darragh O'Brien, launched 'We Are Generation Rent' Threshold's first ever hybrid event, where the findings of the survey were presented. At the event, a number of guest speakers and attendees reacted to the report and gave their thoughts on the harsh reality and plans for private rental sector in Ireland.
What was special about it?
This was a hybrid event, giving attendees the option to attend virtually or in person at the Royal Society of Antiquaries of Ireland.
Offering a virtual option, as well as in-person, greatly widened the net of people who could engage with the event.
The event gave tenants a platform to share their stories, and the challenges they face when renting to raise awareness of these situations and feed into solutions.
Features
Many hybrid events take the approach of using a single camera at the back of the room. Threshold, however, used two cameras, with the production crew mixing between the shots as appropriate.
This seems like a minor thing, but simply alternating between two angles can do wonders for the perceived quality and production value of your session.
We know a static screen can cause viewers to switch off, so, by changing the angle it keeps things fresh and helps keep the attention of your virtual audience.
This doesn't have to cost an arm and a leg. A second professional camera can actually be very low cost. You could even consider having one of your team capture the various angles of the second shot using their smart phone. This secondary feed is also livestream to the Everywhere+ platform and our team takes care of the video mixing.
---
Virtual events are here to stay – and whilst we've tried and tested throughout the pandemic, it's time now to work smarter, not harder.
Join the experts for any or all of our free virtual Charity Virtual Event Masterclasses, designed to help you bring your own virtual and hybrid events to the next level.
These sessions are open to all – whether you host your events on Everywhere+ or not. Afterwards, there will also be a roundtable discussion to share ideas and learnings, as well as networking opportunities with other event organisers like you.
We help organisations like yours host virtual events hassle-free.
Would you like support hosting engaging and successful virtual events this winter?