Virtual Event Producer Tips:
How to Create Great Pre-Recorded Sessions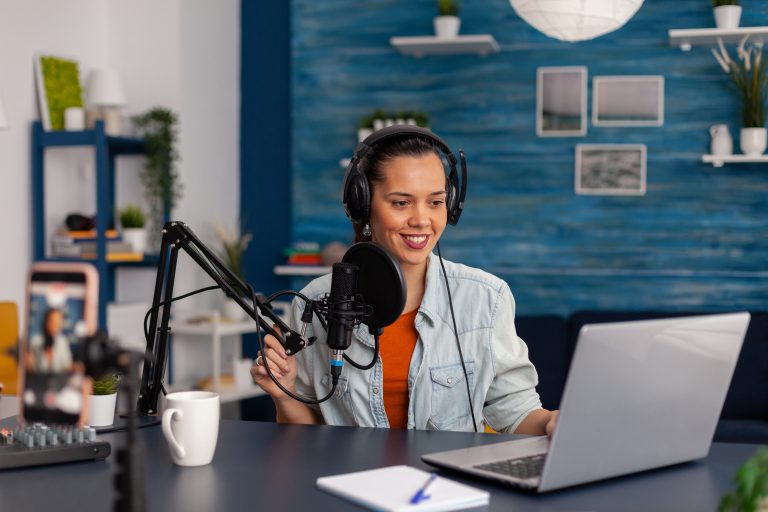 Over 90% of virtual event attendees rate good sound and video as their top priority when attending online events and webinars – and they're right.

Virtual events rely on video for connection and if your attendees can't hear what's been said or see what's being presented, they'll be quick to zone out or log off.
Since 2019 we've recorded, edited, and streamed thousands of hours of virtual event sessions, events, and webinars.
Here Are Our Top Tips To Help You Record Your Next Virtual Session Like A Pro.
1. It's All About The Audio
Tech these days is pretty decent, but even the best of laptops, phones, and computers can use a boost when it comes to recording crisp audio. Always use a microphone that plugs directly into your recording device (no wireless earbuds) and remove anything nearby that might rattle, beep, or rustle; especially cabled headphones where the mic can brush against clothes or hair.

Top tip: run your audio through this free AI tool from Adobe for podcast-quality audio every time.
2. Don't Leave Your Speakers In The Dark

After years of online meetings and activity, it's normal to sit at your desk when it's time to hit record – but is this really the right place?

Everywhere+ customer, MuseumNext, always deliver engaging and exciting pre-recorded content for their attendees by having speakers record at venues, special locations, and even outside!

And when they are recording inside, their speakers are well-lit, looking at the camera, and not sat at a desk. Placement is important too. Think of the picture frame like a passport photo, people like to be able to see space above, below and to the left & right of your face.
3. Go Easy On The Slides
Many of our stand-out sessions have been where speakers have used slides sparingly, or ditched them completely, to focus on the connection with attendees.

Slides can be distracting and can even make your session inaccessible if not used correctly. If visuals are necessary, think about the images, colour contrasts, and text size you use – and provide a copy to the event host in advance so they can give them to attendees.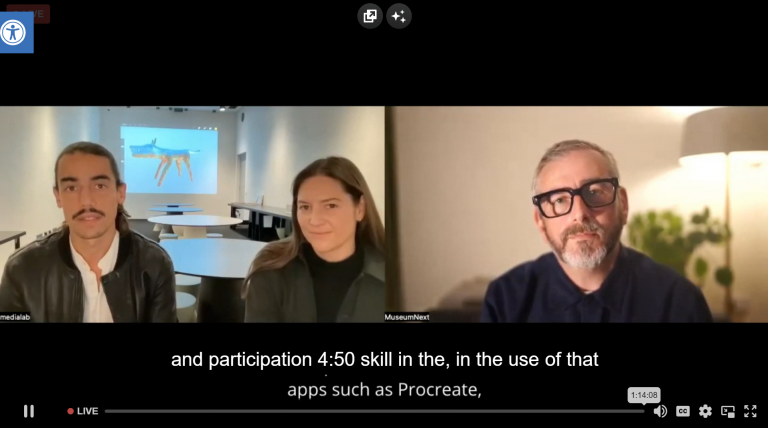 4. Be Mindful About Your Content
Your viewers want to feel like you're there speaking to them so be sure to engage with them in the same way you would if it was live by asking them to say hello in the chat and check in with them at regular points throughout the session.

It's best to not use a script but if you absolutely need to, keep it on the same screen as your camera and try not to look at it all the way through.

It can also be jarring to the session flow to repeatedly ask for slides to be changed if you're not managing these yourself (it's best if you do) so brief your session handler in advance of the change points and continue your session confidently throughout.

Top Tip: attendees won't know if the session is pre-recorded unless you mention it so don't break the magic by referencing this in your session.
5. Stick To Time

Going a minute or two over your session time might not seem like a big deal, but an event with twenty speakers all doing two-minutes extra is now forty-minutes longer!

Your session time is a limit, not a goal. So practice a few times before your recording, cut out anything that's repeated or not needed if you're going out of time, and aim for at least three minutes under.

If you still need help recording and editing your session, we can do that for you in our online recording studio – even if you're not hosting your event on Everywhere+!

We'll look after you from the minute you arrive backstage until we deliver your fully-edited session.