The Big Donor Christmas Party Opportunity
Costs are rising, and event costs are no exception. Couple this with colder, darker nights and concerns around a new wave of infections – understandably, many are asking questions about the viability of in-person events this winter.
The value of Christmas celebrations can't be understated. And, if you're starting to plan your donor Christmas events, but worried about in-person, you're in the right place.
Christmas is all about bringing people together, and there are some fantastic options available to us for safe and cost-effective events that are fun for all.
The Benefits Of Virtual Christmas Events
Running a donor event virtually is a great choice for a whole host of reasons.
1. It makes your event more inclusive

Virtual events are more accessible to a much wider range of people. Whether you have caring responsibilities and you're time poor, travel is difficult for you or you have health considerations that make in-person challenging, virtual events just make sense.

If you can't relate to any of these points, how about this: a virtual event is, almost always, much more convenient than in-person.
Don't you agree?
2. Your event is unaffected by external disruptions such as train strikes
There have already been a number of external situations that have meant that events have had to be cancelled this year already, and winter hasn't even begun.
Train strikes and a new wave of infections are just two potential risks to in-person events over the festive period.
Virtual events are resilient to external issues in pretty much every case.
And, when done right, are just as engaging and fun for your supporters.
3. Attending virtual is more affordable for your donors
By removing unnecessary travel and accommodation costs, the number of supporters that you can engage through your Christmas event increases massively.
Add this to the fact that you can invite more donors to your event for the same cost or less – the benefits are clear.
The cost of living crisis is hitting everyone, hard. The easier you can make it for donors to get the good stuff, the better for everyone.
4. Less travel means it's more environmentally friendly
We all have a collective role to play in making the right choices for the planet.

Transport accounts for around one-fifth of global CO₂ emissions. And isn't it nice to consume content in your favourite armchair with your favourite snacks? Stay home. Protect the planet.
We all have a collective role to play in making the right choices for the planet.
Transport accounts for around one-fifth of global CO₂ emissions. And isn't it nice to consume content in your favourite armchair with your favourite snacks?
Ditch the unnecessary travel. Protect the planet.
5. Your virtual event can be recorded
One of the things we love about virtual is that your content can look good. Like, really good.
Pre-record means that presenters can do as many takes as they like and don't have to worry about on-the-day nerves.
You can do clever edits with overlays, music and transitions.
Pre-record also means you can access more hard-to-reach areas that wouldn't be possible in a live context, such as front line services or in environments with safeguarding considerations.
If that wasn't good enough – you can involve donors who can't make the event on the day by sending them a copy of the recording. Genius.
6. Virtual events are great for stewardship
We know that virtual events are a brilliant stewardship tool.
From increased engagement and retention to greater reach and income potential, there is more and more data shining a light on the benefits of virtual for donors.
Fundraisers know how important thanking donors and making them feel special is. By taking a little time to steward your supports at 'the most wonderful time of the year', you're putting yourself in a strong position to start the year with a bang.
You could try a virtual legacy thank you event, or an end of year summary for your corporate partners.
7. Built for your brand with real human support
In addition to all of this, did you know that Everywhere+ builds your virtual events specifically to your brand guidelines?
This was such an important one for us. By building your events from the ground up, we can create a customised experience perfect for engaging your audiences, and keep them coming back. 
Plus, we provide an event engineer to ensure the whole event runs smoothly for you and to give you peace of mind. 
Virtual Christmas Event Ideas We Love
Christmas trivia show-down

Name that Christmas tune quiz

Reindeer drive

Christmas movie 'watch party'

Festive bingo
Festival cook-along
Christmas card crafting 
Take donors on a virtual Christmas market tour

Meet the CEO/Campaigner/Insert person your donors would want to meet here

Christmas Carol concert
How Much Will My Virtual Event Cost?
We promise your virtual event can be impactful and be achieved without breaking the bank.

We've put together a package for a 2-hour Christmas donor event that includes:
A breakout room so you can meet and greet your donors

Photo walls to showcase the incredible work made possible by your supporters

Polls and quizzes for a bit of fun and to provide essential engagement

Subtitles for accessibility
 All for just €1,350. 
Our team is ready to turn these around in double-quick time. 
If you'd like to find out more please email hello@fundraisingeverywhere.com.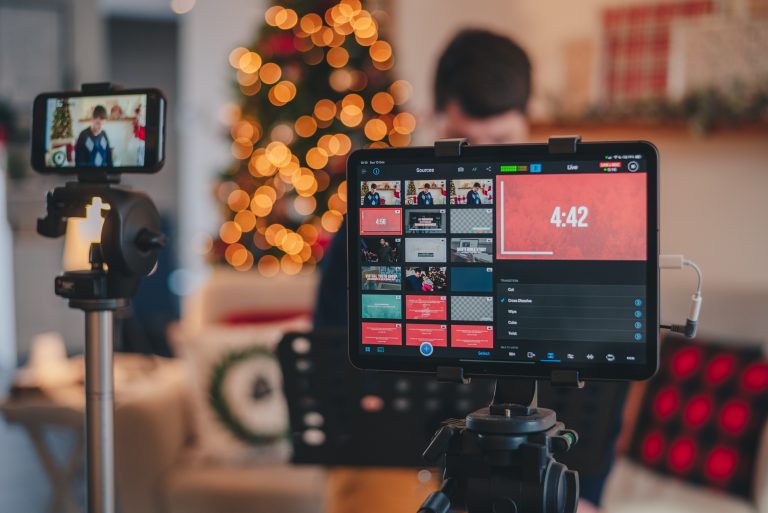 We help organisations like yours host virtual and hybrid events hassle-free.
Would you like support hosting engaging and successful virtual events this winter?