Job: Growth Marketing Exec (Everywhere+)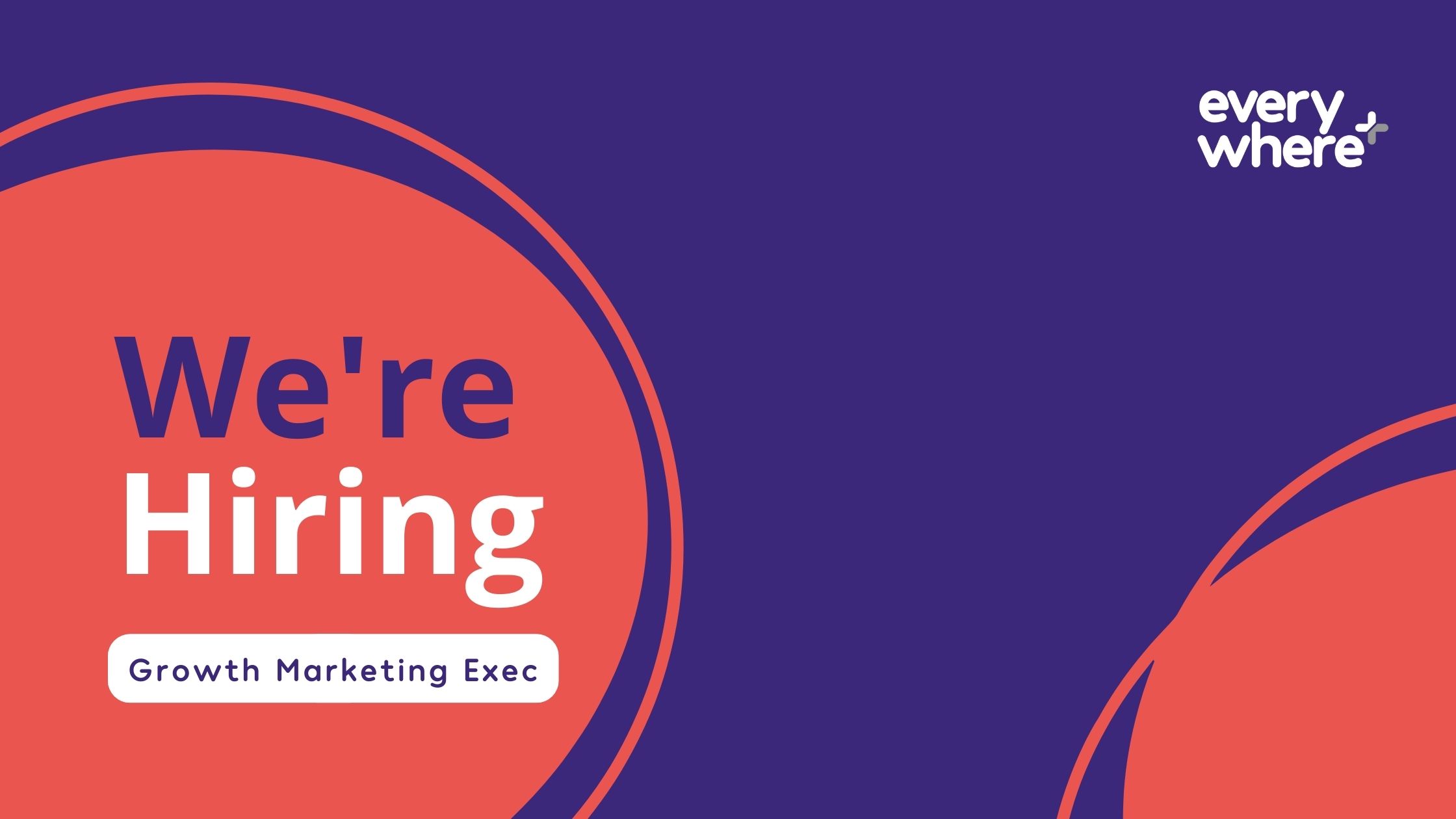 The deadline for this role has passed and we are no longer accepting applications.
Role: Growth Marketing Exec (Everywhere+)
Salary: €30,000 /  £26,500
Hours: 30 per week, worked at any time through the week between 7am – 7pm UK/Ireland time
Direct reports: None
Working alongside: Head of Growth Marketing, Co-Founders
Reporting to: Head of Growth Marketing
Location: Remote – Must live in UK/Ireland
About the role
This person will support the marketing of the virtual events platform, Everywhere+ (E+), including social media (paid and organic), email (emails, list management, and journey), content creation, reporting, and PR support.
The purpose of the role is to support the existing marketing function to increase brand awareness and increase the number of clients we work with via Everywhere+.
Our long-term goal is to grow the marketing team and dedicate a team of people to Everywhere+. The Growth Marketing Exec is the start of this growth and the start of an exciting new chapter for the organisation.
Below you'll find a list of responsibilities for the role. We understand that you might not have experience in every detail, so if this is you and you think this role is right for you, please still get in touch.
Content Marketing
Project management of Virtual Event Masterclass
Project management of repurposing content (via other team functions)
Organic & paid social:
Copywriting & graphic creation
Social media content generation and scheduling
Will work across platforms including Twitter, Linkedin, YouTube, Facebook, Instagram
Reporting & analysis, insight
Email
Copywriting & graphic creation
Email; promo & retention, journeys (welcome, conversion & reactivation)
Reporting & analysis, insight
Website
Blog development (including guest blogs)
Conversion flow optimisation
CMS
Reporting & analysis, insight
Podcast
Affiliates, sponsors and marketing partners
Support partners with content, collateral and communications
Creative development
Working closely with video editors
General
Identifying leads and opportunities for sales team
Contributes to team meetings
Contributes to marketing planning
Key relationships
Everywhere+ Senior Account Manager
Third-party agencies/freelancers
Online community via mailing list and social media
External suppliers or freelancers for graphic design, editing etc.
What we offer
Flexible and remote working
28 days holiday plus UK Bank Holidays (includes Christmas close down)
Training budget (after six months successful probationary period)
One day a month offline for reflective development (after six months successful probationary period)
What we're looking for
Someone who
Has experience with content, email, paid and organic social marketing
Has experience with WordPress/Elementor
Has experience with cultivating leads from digital marketing activity for sales team action
Can regularly analyse activity and develop plans for continuous improvement
Is a great written communicator
Can make graphics (Canva is fine) for online use
Has great relationship building skills
Is a team player and can work alongside others on shared goals
Has a great attention to detail and can spot opportunities from leads and social listening
Is (very) organised and proactive in spotting opportunities and working towards them
Can keep Head of Growth Marketing up to date with what's happening and what you require to make your job easier and more effective
Don't worry if you haven't worked with virtual events before, we will provide full training.
About us
Everywhere+ are a tech for good start-up working within the third sector.
Everywhere+: We keep the for good sector connected to the people who matter with engaging, accessible and effective virtual events. We've worked with over 200 third-sector organisations to host stewardship and engagement webinars and conferences that put the attendee experience at the heart of everything. Oh, and we make it fun too.
You can find more about our values and how we work here.
For more information
If you have questions about us or the role, please contact alex@everywhereplus.com.
To find out what we're like to work with, please get in touch with our references who will be happy to send some details:
Referee (Alex): Tori Arthurs tori.arthurs@foe.co.uk
Referee (Nikki): Andy King andy@firesidefundraising.com
Referee (Simon): Dana Segal danakohavasegal@gmail.com
---
To apply
Fill in this short application form: Growth Marketing Exec (Everywhere+) before 5pm on January 26th, 2023.
We encourage people from all communities to apply for jobs with us. We particularly welcome applications from Black, Asian and Minority Ethnic, disabled, male identifying, trans and young people because we want to improve representation of these groups in our workforce.
All applicants will be notified by email on the evening of January 27th 2023 and interviews will take place online (subtitled) the following week on January 31st 2023.