7 Ways To Use A Webinar To Raise More Money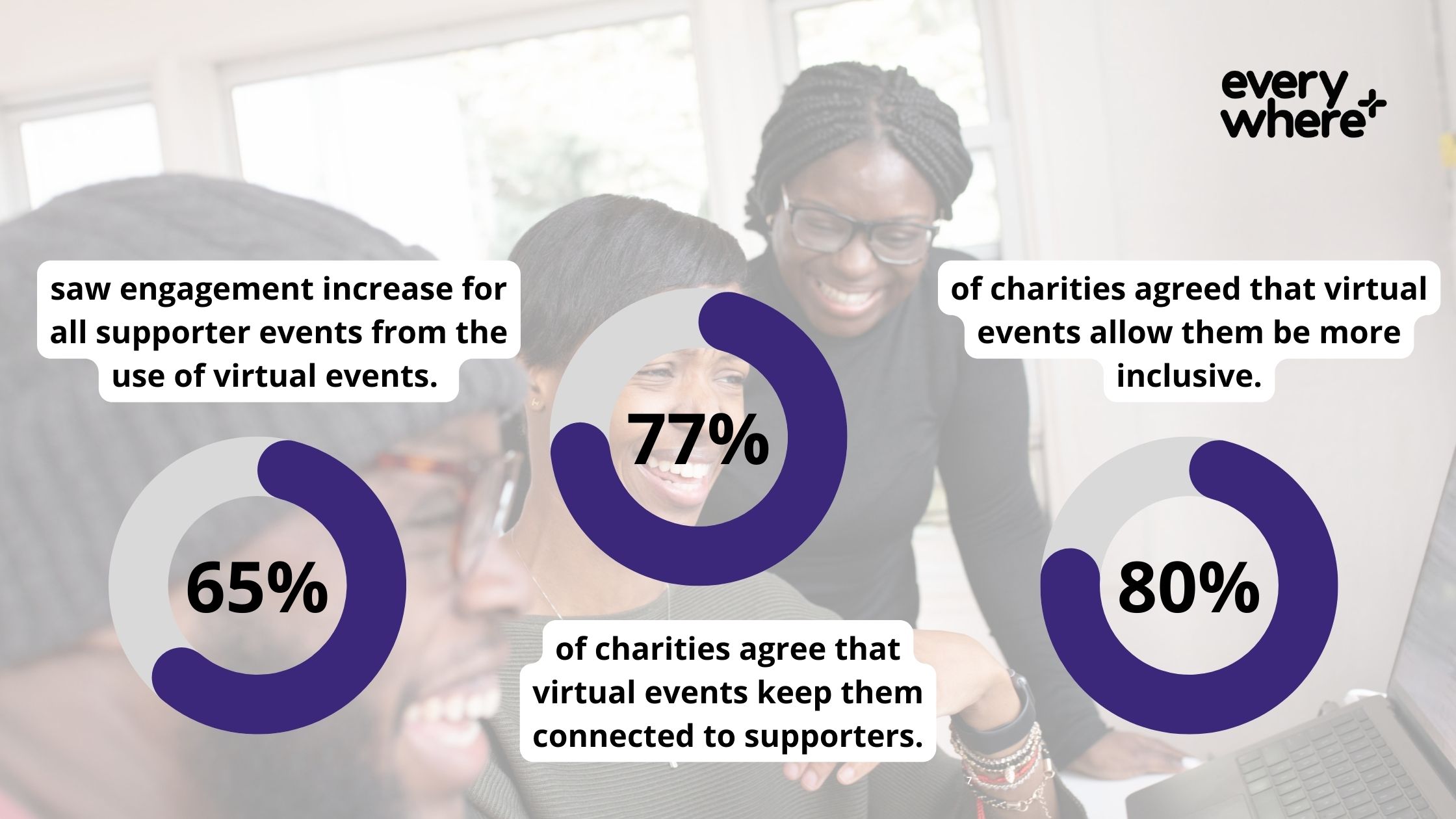 Webinars are an amazing opportunity to engage with new audiences, stay connected with supporters and staff, and deepen trust in existing relationships.
In 2022's Live Virtual Event Report, 77% of charities confirmed virtual events helped them stay in touch with their supporters and 64% reached or over-achieved on their fundraising targets.
And although in-person events have returned, 70% of charities plan to continue with their use because of the additional geographical reach and sustainable benefits they provide.
Here you'll find seven ways to use webinars to support your charity across multiple departments.
1. Boost Your Social Media Presence
74% of surveyed charities told us that virtual events boosted their social media engagement.
Social media loves live content, and by using simulcasting platforms you're able to go live across multiple platforms at once.
When Everywhere+ hosted the Charity Film Awards, by streaming to Twitter and Facebook alongside our event platform we added and extra 100,000+ views to their event!
Remember, you need a charity representative on each platform for community management and including scroll-stopping visuals to grab attention.
More than 50% of marketers rely on webinars for promotion and with good reason.
By offering new experiences, exciting guests, or interactive experiences, you are able to bring your audience from social media platforms, other lists, and offline experiences to somewhere where you can segment, steward, and cultivate.
Host your own webinar or feature as a guest on someone else's to see your list increase by the thousands!
3. Welcome New Supporters
With remote work booming and digital opening up new audiences from far-flung places, a webinar is a great way to humanise your organisation, sign-post, and say thank you as new supporters join you.
Chance to Shine moved their corporate activation activity online during the pandemic and were able to crack a common problem of engaging multiple staff at the start of a partnership. They plan to continue despite the opening restrictions.
Supporters retain 95% more information from watching a video compared to 10% in text.
A webinar is a great way to launch new campaigns by sharing new information in an engaging an interactive format. In 2021, Carers Trust used a webinar to launch their 'Time for Me' campaign, using the power of virtual to bring together patrons, including HRH Princess Anne, donors, and carers for an intimate Q&A to discover the reality of the life of a carer.
Combine a presentation with a Q&A and interactive elements, using a virtual delegate bag to allow attendees to explore the information in their own time.
Use them at strategic points of your campaign planning to boost subsequent engagement. For example, a Q&A webinar held the day before an integrated campaign launch can boost open rates and income.
By including personal contact into a supporter's post-sign up journey, charities can expect sponsored income to increase by almost 50%.

For challenge events where personally contacting thousands of supporters could take more time than is available, a live webinar is a great way to make people feel seen and updated.

They're also helpful at later stages of a supporter's relationship with you as a way to bring impact and updates to life.

Invite front-line staff and beneficiaries (where appropriate) to share updates through stories and utilise the flexibility of location to bring in trustees, staff, volunteers, and patrons to extend relationships beyond their main point of contact.
6. Making Things Exciting
The AGM and annual report; a necessity, but one of the more drier charity communications – however, they can be a fantastic fundraising tool.

In one document you are showing impact, success, mission, social proofing, and gratitude – all of the important things for a successful fundraising ask.

Bring your report to life, like the East Anglian Air Ambulance team, by sharing the highlights in a webinar and using the medium to share behind-the-scenes peaks into the charity with tours, interviews with ambulance staff, and showing personality with performances and talks.
Finally, webinars can be used to shower your supporters with gratitude.

Play around with the placement and track how it impacts your fundraising and retention; post sign-up, key milestones, or post-event.

Feature different people from the charity, beneficiaries (where appropriate), and personalise the event by featuring user-generated content, names, and videos.
We help organisations like yours host virtual events hassle-free.
We've supported over 400 charities with their virtual events since 2019 and take care of everything from set-up to on-the-day delivery.